What makes Virat Kohli successful & famous - A Vedic Astrology Perspective
Virat Kohli is a gem who has shined out of struggle and hard work. He is smart, witty, dynamic, and has an authoritative command that makes him one of a captain. Thanks to his horoscope combinations and stars, his valor and showcase of exceptional talent is not a secret. Vedic analysis of his horoscope clearly suggests that he is someone who is meant to be a celebrated sportsman.
1. WHAT MAKES HIM SO FAMOUS AND SUCCESSFUL
A special yoga called Rashi Parivartan in 10th and 11th house is the reason behind his unmatched success, respect, and recognition in work. In the horoscope, Virat is running the Mahadasa of Rahu in 3rd house which blesses him with courage, confidence and energy. Virat being the blunt and strong man rules the sport with ease.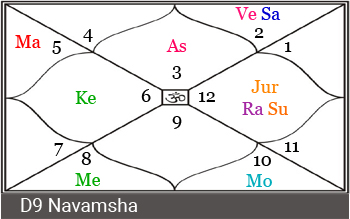 The key planet in his horoscope is Saturn,being the strongest according to shadbala indicating sincerity, punctuality, and will power leading him towards success. His winning awards like Padma Shri in 2017, Arjuna Award for cricket in 2013, People's Choice Awards India for Favorite Sportsperson and ICC One Day International Player of the Year Award in 2012 further justifies his success.

His D_10 chart representing career prospects shows a very rosy picture. Saturn is placed in its own sign and the chart has exalted Sun, Moon, and Mars too. All these planets hold a special and fortunate career for him in sports. Success and fame in sports was meant for him especially due to the exalted Mars.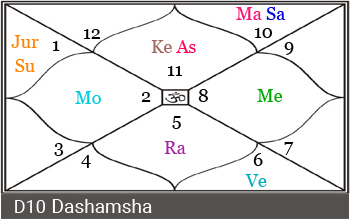 While his share of success was growing, he had a huge loss. Virat lost his father on 18 December 2006 when he was playing a Ranji Trophy match against Karnataka. This was a very panicking and crucial situation for him but he played for 281 minutes, had 238 balls, and saved the match by scoring 90 runs leaving only 36 runs needed to win. At the time of his loss, the 9th house of father was under Rahu/Ketu axis, a transit from ascendant. Saturn too transited in 9th house in a bad sign. Sun, the karaka of father too debilitated in his horoscope leading to an early demise of his father at 54.

In 2011 World Cup match, Virat was the first cricketer to score a century when he was running Rahu Mahadasa in 3rd house of his natal chart. Not only the cricketing success, he has touched many hearts with his charity and philanthropic activities too. He started a charity foundation called Virat Kohli Foundation (VKF) in March 2013 for underprivileged kids.In May 2014, Virat took his foundation to another level during Jupiter antardasa running at that time. Jupiter is in own sign in D_9 chart which compelled him to work for betterment of society.
Virat had a fair share of bad cards too. Controversies surrounded him like fire when he was playing the Test Series in England. His inability to move the ball outside the off-stump and 2015 world cup performance added to his plight. At that time, Rahu Mahadasa & Jupiter antardasa was running. Jupiter being badly placed & in state of retrogression deteriorated his playing strategy & his decisions failed. Not only that, his ladylove, Anushka Sharma was dragged in the controversy. On the positive side, his ardent fans showed their support and #WeBelieveInViratKohli started trending on social media.
Recently Anil Kumble, the Head Coach of Indian Men Cricket Team resigned due to indefensible differences with Virat Kohli. During this time, he is running under Rahu Mahadasa & Saturn antardasa and the 3rd house of colleagues is aspected by natal Saturn.
Virat's horoscope shows an amazing period for relationships. After the end of Saturn's transit in 2020 approximately, the period indicates fortunate time for engagement and marriage.
2. SPECIAL PILLARS OF KOHLI'S BIRTH CHART

9th house
Sun is the lord of 9th house, which is placed in an exalted position in 10th house in a friendly sign in D_9 chart further glorifying it. Sun is the destiny lord in Virat's horoscope. However, it is in state of debilitation in D_1 chart but it is doing better in Divisional chart. Due to Sun, he got the desired name & fame at such a young age. However,due to Ketu aspecting the ascendant, he may have stomach related problems.
10th house
The lord of 10th house in D_10 chart is Mars in exaltation indicating strong career prospects. While in D_1 chart. Rashi Parivartan yoga is granting him valor, honor, dignity, public esteem, and respect.
There are three aspects on 10th house, including Mars blessing him with physical strength, Jupiter blessing with luck & fortunate and Saturn is creating some hurdles in Cricket field until 23 February 2018.
11th house
Raj Yoga and Dhan Yoga forming in the 10th and 11th house are very favorable for Virat. Sun & Mercury are placed in 11th house making Budh Aditiya yoga. Lord of 11th house Venus in both D_1 and D_10 chart will create some obstacles in success in the commercial & business aspects of his life.
3. PREDICTIONS FOR NEXT TWO YEARS
1. Mahadasa of Rahu & Antardasa of Saturn until 23 February 2018
During this period, main emphasis will be on 3rd house, which will give powerful results concerning significations of 3rd house. Virat's showcase of confidence and strength will be good but he may not get the deserving rewards due to Saturn aspect on 10th house. In fact, he may face some health problems too. In order to tone down the effects of Saturn, there is a need to avoid stress and pressure of work.
2. MahaDasha of Rahu & AntarDasha of Mercury until11September 2020
During this period, hard work and efforts will pay off well. Mercury, lord of 10th house placed in 11th house will give him a smooth financial ride. He will get success in his undertakings. His inflow of wealth and overall prosperity will be on a rise. His overall stamina & performance will outshine.
Detailed Horoscope Reading
with predictions can be requested for a similar analysis of your horoscope.